Assessment
At Oakwood we use Learning Journeys as our assessment system for children working at early development levels right through to children working at a subject-specific knowledge level. Learning Journeys was originally developed by Willow Dene School (Greenwich), and through our partnership have adopted the key principles and have made some adaptations to capture the needs of our children at Oakwood.
Prior to the implementation of Learning Journeys in summer 2022, our assessment system were:
2000 – 2018 BSquared

2018 – 2022 Quest and MAPP (Mapping and Assessing Personal Progress)

Summer 2022 onwards Learning Journeys
Learning Journeys measures progress at certain points in time. At Oakwood we achieve this by observations of children's learning against criteria on a termly basis. However, Learning Journeys also offers the opportunity to capture progress at different points in time.
Learning Journeys is divided into four sections: Discoverers, Investigatorrs, Explorers and Adventurers. The first two of these are concerned with children working at Informal and Pre-formal levels (P1-P4). Discoverers (Pre-formal) is based on the Welsh Government's highly regarded "Routes for Learning", while Investigators (Informal) was developed by Willow Dene to assess the huge amount of learning that children do as they come out of P3ii and into P4 (and which is notably absent by these measures). Explorers (Semi-Formal) covers children working at higher P Levels (P5-P8), Adventurers (Bridging) assesses learning at pre key stage National Curriculum levels and Voyagers (National Curriculum) assess learning at National Curriculum level. In our Early Years classes children follow the Early Discovers, Early Investigators, Early Explorers, Early Adventurers and Early Voyagers pathways.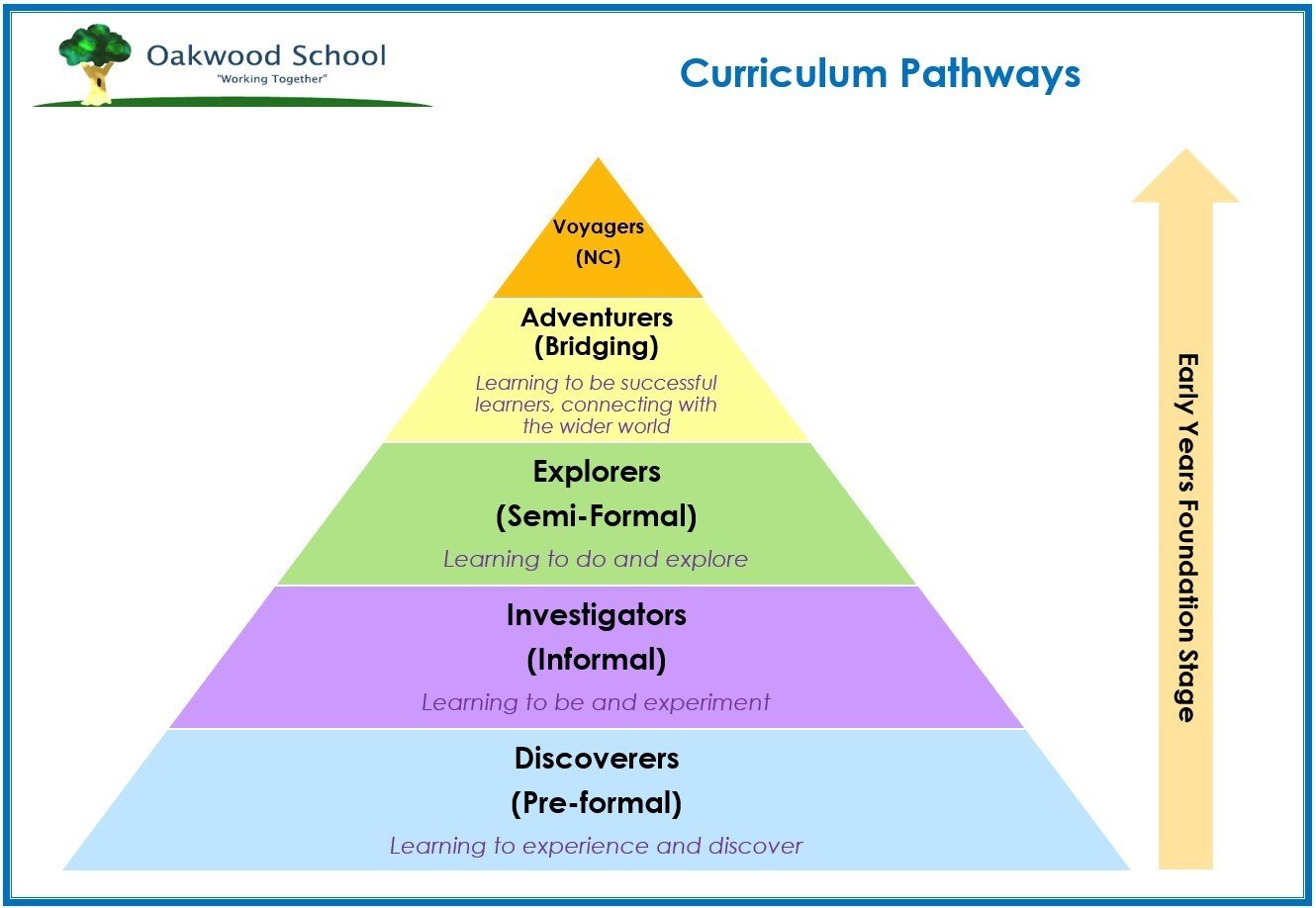 Oakwood offers a universal curriculum entitlement for all children, irrespective of their learning profile. This ensures that children have breadth and balance to their learning as well as opportunities to identify and develop strengths and interests. However, we do recognise that children at different stages of learning have different priorities and areas of focus, which is why we have developed children's personal learning targets (PLTs).
Children working at Pre-formal – Discoverers level are developing the earliest communication, cognitive and social interactions processes and skills on which all future learning is built and assessed via our Discovers assessment system. It also includes a small number of children who have just started achieving a few statements within Investigators.
Children working at an Informal – Investigators level are working on more refined communication, cognitive and social interactions skills with greater intentionality. They are beginning to use more formal and representative systems for language-based concepts, which may include symbols and signing as well as single verbal words. They have a more developed understanding of how their actions can impact on the people and environment around them. They are largely assessed using Investigators although some children may have achieved a few statements within one or more areas of Explorers.
Children working at a Semi-formal – Explorers level have started to secure early and concrete concepts such as colour, shape, size, position and early number as well as develop a more sophisticated understanding and use of early language. They are assessed using Explorers, in in the three strands of English (Reading and Writing, as well as new strand for Communication, which replaces Speaking and Listening) and three strands of Mathematics (Number, Shape Space and Measures and Using and Applying).
Children working at a Bridging - Adventurers level are working within the new pre-key stage standards, in what used to be National Curriculum levels. They are developing more formal, knowledge-based understanding in the strands of English and Mathematics outlined above and assessed using Adventurers. All of these children have some gaps in their understanding of earlier skills and knowledge and will be learning how to use and apply their knowledge and understanding to different contexts.
Discovers and Investigators are concerned with learning based on children's communication, cognitive and social interactions processes and skills, while Explorers and Adventurers measures progress in three strands of Literacy (Communication, Reading and Writing) and three strands of Maths (Numbers and the Counting System, Measures, Shape and Space and Using and Applying).
Each part of Learning Journeys exists as a sperate framework. Children should complete Discovers before being baselined on Investigators. They may then transition onto Explorers when they are demonstrating some understanding of basic concepts and may be working from both assessment systems simultaneously for some time. Each strand of Explorers and Adventurers is a continuum in recognition of the spiky profiles of strength and gaps that children working at this level are likely to have.
An important feature of Learning Journeys is that alongside each termly data drop, we record information about other markers of well-being that can impact on children's attainment. This RAG-rating provides significant context about the progress children have made, often in spite of factors which we know to have a negative effect on learning. It also ensures that problems are addressed in a timely and effective way, either by adjusting our provision or by referring the child to appropriate services.
The central vision of Learning Journeys is to 'capture the progress we value' and as such to capture the progress that it is valuable for the children to be making. This is underpinned by a belief that 'effective assessment leads to a change in practice' and that by focusing on the right answers, we ask the right questions and this leads to a virtuous circle in terms of designing the most effective learning opportunities.
Evidence for Learning (EfL)
From Summer 2022, we are implementing Evidence for Learning to capture our observations and link them to our assessment of children. Prior to this we used Seesaw as our evidence platform.
EfL makes the process of capturing, storing, analysing, sharing and assessing children's progress and achievement much more integrated and efficient and will have a significant positive impact on several aspects of teacher workload. In addition, this will strengthen the learning partnership between school and home.